Welltek celebrates the recognition of the Wellbeing Hub at Whipps Cross Hospital for being shortlisted for the prestigious Nursing Times Award. As part of their contribution, Welltek has supplied N.A.P. (Neuron Activation Pod) devices for the Wellbeing Hub, which is situated on the 3rd floor of the Medical Education Centre Dining Room in Willow Lodge.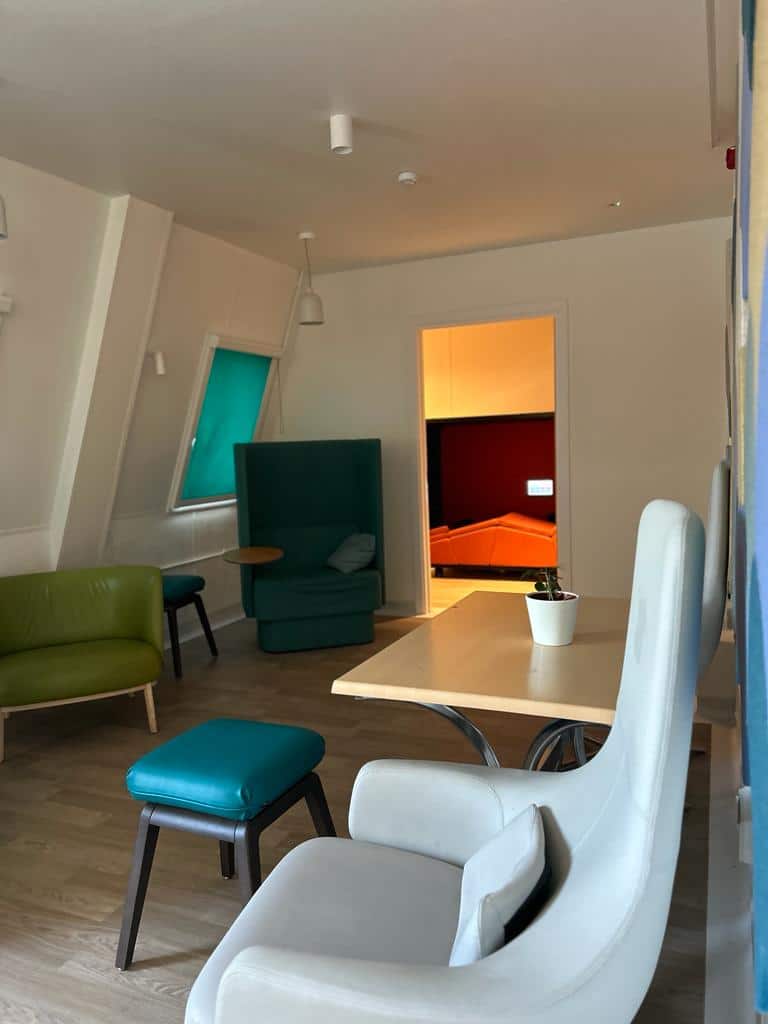 Anhar Ali, MSK Service Manager at Mile End and The Royal London hospitals, expresses the excitement among staff in response to the new Wellbeing Hub, stating, "Staff are so excited to have space that we've never had before. I think they will make colleagues happier. They will feel appreciated because their hard work has been acknowledged and they've been rewarded with this nice space where they can come and relax. Thank you to all the people who've donated – I don't think you realize what a difference it's going to make for staff."
The Wellbeing Hubs at Barts Trust are set to benefit all 24,000 staff members and contractors, aiming to increase staff resilience and reduce the risk of burnout that can lead to extended leaves of absence or even cause staff to consider leaving the profession. By improving relaxation spaces for Barts Health staff, the trust anticipates that they will have greater capacity and capability to provide safe and compassionate care to patients.
The wellbeing hub provided a much-needed escape from the hospital and clinical work environment, with a strong emphasis on discouraging work within these spaces. Geraldine Cunningham, the Wellbeing Lead, reflects on the uniqueness of these hubs within the NHS, stating:
"The hubs are just beautiful, relaxing spaces and I've never seen anything like them in my 40 years working in the NHS."
Additionally, the Wellbeing Hubs feature separate side rooms that can be utilised for psychological support sessions, further enhancing their value as comprehensive well-being facilities.
Dr. Jessica Best, an Education Fellow at Whipps Cross Hospital, shares the positive feedback received about the N.A.P. devices supplied by Welltek, explaining,
"A great many staff have been utilising both devices, and all have commented on how lovely the experience was. Word has been spreading! Many have approached us to report that they slept better that night and we're very grateful – as a result we have had many 'repeat' customers! They look very stylish and are very easy to use. It has the added benefit of allowing our staff to have a 'safe space' to relax, and they tell us that having these things in their place of work make them feel valued."
The Wellbeing Centre, where the N.A.P. devices are located, serves as a sanctuary for healthcare staff to relax during breaks or after demanding shifts. Acknowledging the stress, anxiety, and exhaustion faced by healthcare professionals, this initiative ensures a safe, clean, and peaceful space for much-needed rest. The presence of the N.A.P. devices has elevated the Wellbeing Hub to a sought-after destination for staff seeking comfort and rejuvenation during these challenging times.
Welltek's participation in providing the N.A.P. devices highlights their commitment to supporting the health and well-being of healthcare professionals by delivering innovative and effective wellness technology solutions.